Interview Tips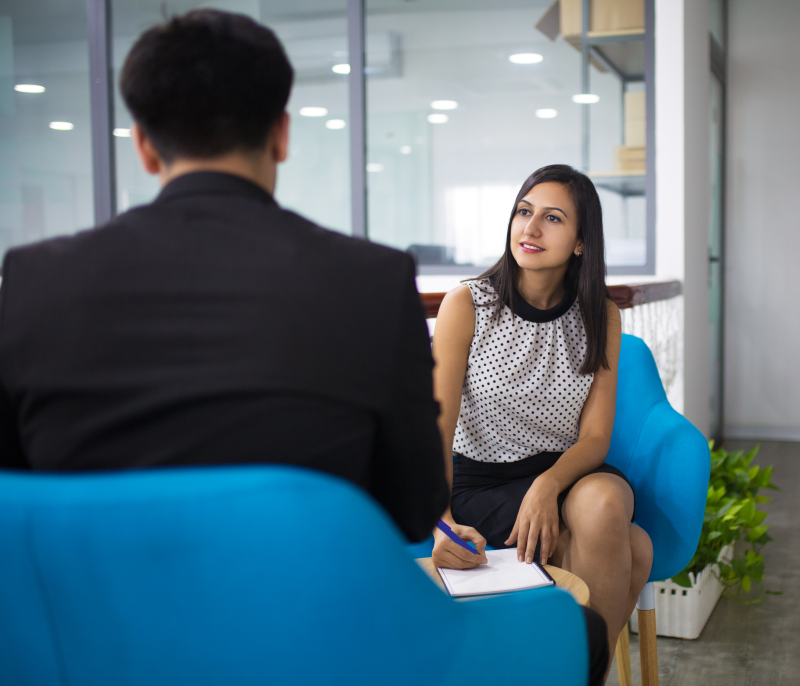 Got an interview in UAE?
Congratulations!
There are 3 major steps that you'll need to prepare before the interview.
1. Know the common interview questions to expect, and understand the intention behind each.
2. Strategically craft a great answer for each question.
3. Practice interviewing until you're as strong as possible.
That's it. Once you follow those three steps successfully, you'll start to see the job offers coming your way. Of course, each step is itself an art and a science.
10 Most Common Interview Questions and Answers:
✕
1. How to Answer: "Tell Me About Yourself"
Often asked at the very start of an interview, this is your opportunity to deliver an elevator pitch that gives the interviewer a quick idea of who you are. Used wisely, this elevator pitch could make the interviewer very interested in your next answer. If used incorrectly, the interviewer could stop paying attention before you even have a chance to answer a second question.
Good Example: You don't have to brag, "I'm the best salesperson in the world." Instead, you can state, "I led my division in sales for the last three years and had the opportunity to bring in more than AED 2 million worth of new business during that time."
2. How to Answer: "Describe Your Current (or Most Recent) Position"
One of the easier interview questions to answer – but you'll still need to use it to highlight your job-relevant greatness.
Good Example: "Stress any impressive achievements (a promotion, an award), statistics (#1 salesperson, 26 people managed), numbers (revenue generated, expenses reduced), or other details."
3. How to Answer: "Why are you looking for a new opportunity now?"
The question that can either put your interviewer at ease or raise serious red flags. This question is a prime example of why it's important to understand the reason an interviewer asks each question, and why crafting winning answers requires strategic thinking
Good Example: "I have been at my company for three years now and have learned a lot from working with some amazing salespeople. I worked my way up to regional sales manager 18 months ago and my region has beat our sales projections by at least 25% each quarter since. However, I am starting to feel like I need some new challenges. This position really appeals to me because it would allow me to manage a bigger team and sell more innovative products."
4. How to Answer: "What are your strengths?"
Your chance to toot your own horn – but make sure to do it artfully. Being able to do 20 pull-ups does not count as a strength. Make sure your answer is specific, personalized, and truly impressive.
Good Example: "I think one of my greatest strengths is as a problem solver. I have the ability to see a situation from different perspectives and I can get my work done even in the face of difficult obstacles. I also feel that my communication skills are top-notch. I feel just as comfortable presenting to senior executives as I do mediating a conflict between junior team members. I worked as a programmer in the past so I have that perspective of a developer and I think that they respect me for that."
5. How to Answer: "What is your greatest weakness?"
By far one of the most commonly searched-for interview questions, the "weakness" question is difficult to properly tackle. This one could sink you unless you're careful. Obviously, "I work too hard" is not the answer (although you'll find plenty of bad advice elsewhere online that would advocate saying that).
Good Example: "Sometimes I can be a bit too honest when I provide feedback to coworkers. My personality is naturally very straightforward and to the point, and most of my colleagues really value that, but I have learned that there are times on the job when more diplomacy is required. I took a training class on conflict management and it really opened my eyes to the need to communicate differently with different people. So now I am much better at providing constructive feedback, even if it doesn't always come naturally."
6. How to Answer: "Why do you want to work here?"
Repeat after me: Don't say "for the money" — Don't say "for the money" — Don't say "for the money". Got it? You're already off to a better start than some candidates.
Good Example: "Well, I have great respect for your company's software products and I would welcome the opportunity to work with the best in the business. At the same time, I have friends in the industry who have told me about your company's respect for employees and how you create a great environment for rewarding innovation. I think my proactive style would fit in really well here — especially in this particular role."
7. How to Answer: "Where do you see yourself in five years?
Possibly one of the silliest questions – but it too requires an artful and diplomatic answer. Another common variation on this interview question is "What are your goals?".
Good Example: "My goal right now is to find a position at a company where I can grow and take on new challenges over time. Ultimately, I'd like to assume more management responsibilities and get involved in product strategy. But most importantly, I want to work for an organization where I can build a career."
8. How to Answer: "Why should we hire you?"
The money question. "Why" indeed. This is where you need to spend a ton of time thinking about the role, the competencies, and how you're the perfect fit. Our article on the question will help you craft a concise summary of all your "selling points".
Good Example: "Honestly, I almost feel like the job description was written with me in mind. I have the 6 years of programming experience you're looking for, a track record of successful projects, and proven expertise in agile development processes. At the same time, I have developed my communication skills by working directly with senior managers, which means I am well-prepared to work on high-profile, cross-department projects. I have the experience to start contributing from day one and I am truly excited about the prospect of getting started."
9. How to Answer: "Do you have any questions for me?"
Your questions here can either leave a strong, lasting impression on the interviewer or make you come across as clueless. Our (very popular) post on questions to ask at the end of the interview will suggest 12 winning questions, and explain how each can help you gather important information about the job.
Good Example: "What are the biggest challenges facing the company/department right now?."
10: The Guide to Nailing Phone Interviews
Before a face-to-face, you typically have a phone screen you need to get through. This can be a challenging "gate check" to get past, and we often hear from Big Interview users that it was their biggest sticking point before using our full training system. Here are some tips for conquering that phone interview and getting through to the next round.
a. Print Out Your Resume
b. Use a Landline
c. Have Questions Prepared
d. Clear Out Your Environment
e. Be Honest
f. Speak up
g. Say Thanks
Good luck with your interview!