CV / Resume Writing in Sharjah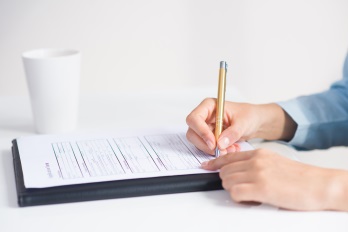 When an employer is faced with the task of reading through hundreds and hundreds of resumes, they won't spend more than a few seconds initially looking at each individual resume. Our service is successful because we know what to include, what not to include, and what kind of a spin to put on your CV to make sure that you stand out not just the document – to give you the very best chance of getting the job that you want. The secret to our success lies in knowing what to include, what not to include, and what kind of a spin to put on your CV.
Our professional CV writers receive in-house training to ensure that they are aware of the nuances that distinguish a decent CV from a fantastic CV. After you have placed your order, you will be paired with an experienced member of our CV writing staff. Following that, your CV writer will work back and forth with you across numerous drafts, gathering, writing, and arranging your material along the route, in addition to providing helpful hints and guidance. Your final draft will flawlessly portray your talents, experiences, and responsibilities on a CV that is organized in a way that is clear and simple, and it will be geared specifically toward achieving your professional objectives.
When looking for work in the UAE, your CV is the single most significant thing you can use to make an impression on a potential employer. Time spent on your CV will pay off in the form of an interview with your ideal company. We've created the whole manual for crafting the perfect CV. We are one of the leading CV writing firms in the UAE and will help you craft a CV that will get you the job you've been hoping for. Everything from learning what to include and what to leave out to getting pointers on formatting and personalizing your CV is part of this.
The purpose of your CV is almost always to gain an initial employment interview. When you apply for a job, you will typically be required to hand over a copy of your CV to a hiring manager, HR manager, or recruiter. The reader will form an opinion about you and your candidacy for an interview based on what they take away from your curriculum vitae. Your CV must be brought up to date, proofread thoroughly, and error-free in order for you to be considered for a job. Without a CV, you will not even be granted an initial interview.
Have our CV writers ignite your career today—apply for jobs with confidence knowing you have the best possible CV in your arsenal!
How It Works?
Simply follow the steps below:
Step 1

Go to our sign-up page and choose a package according to your work experience. Fill out the form, upload your current CV or questionnaire, and then complete the payment online using a credit or debit card.

Step 2

CV Writer gets assigned and he/she will give you a call or WhatsApp you to discuss your expectations and ask for relevant details about your work experience, education, etc.

Step 3

You receive the first draft and give feedback to the CV Writer, after making the necessary changes you will receive the final version of the CV with a cover letter.